WINNERS
Dennis Rommedahl
Denmark's wingers, Rommedahl and Jesper Gronkjaer, seem to have been around forever.  In fact, they're starting to feel like a throw-back, which is funny when you consider that what they really do is run-forward.  Very, very fast.  Rommedahl, 32 next month, provided an assist for Bendtner before scoring one of the goals of the tournament so far.  Time is obviously struggling to keep pace with him.
Nicholas Anelka
Perhaps a controversial choice, but I'd argue that being ejected from this France squad for abusing Domenech is far better than being doomed to failure with it.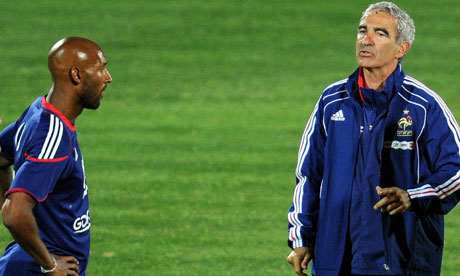 LOSERS
Goalkeeping
The number of goalkeeping gaffes continues to rise, with Japan's Eiji Kawashima and Ghana's Richard Kingson the latest to fall victim to the Jabulani jinx.  In fact, the best keeper on show yesterday was probably…
Harry Kewell
Whoops. Not a good week for him.
Cameroon
Le Guen brought in Alex Song and moved Samuel Eto'o to the middle, but it was too little too late, and Cameroon became the first team to be ruled out of progression from the groups.  One suspects they won't be the only African side to fall at this stage.  Let's hope the tournament's atmosphere could survive a potential cull.
-
As ever, your thoughts are welcome – was Kewell unlucky to be sent off?  Does Anelka deserve our disapproval?  And just what is going on with those goalkeepers?